Unique & Obscure

A COMPARATIVE LOOK
AT
ACADEMIC TECHNIQUE



---
Unique

Let's take a look at an example of French academic figure drawing.

---

In this drawing by an anonymous artist, and its detail below, we can find the many shared traits with Prud'hon's drawings. (Ignore the fact that the chalk is red -- we can still find the common traits of academies)

The shared traits are:

careful analysis of forms within the body
variety in outline
diagonal hatching in background and other non-figure subject matter
stumped tone beneath the hatching
hatches equidistant, not crossed, generally straight, applied in rows
hatches shift direction very slightly over deeper form changes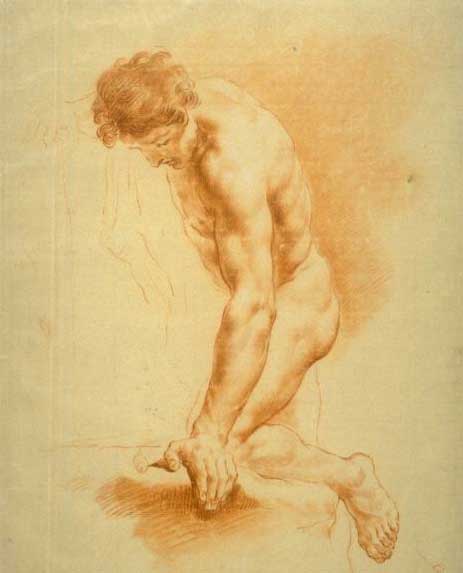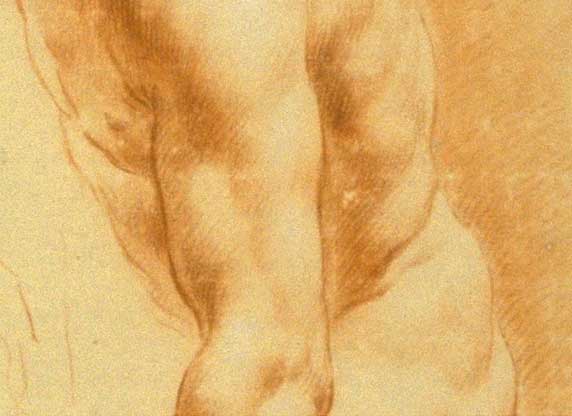 ---
Compare to this drawing by Prud'hon:


The difference is:

while traditional hatching runs on an oblique path over form,
Prud'hon's hatching runs parallel to form's length, on the whole.


Obscure

If it was only hatching that was employed in his drawing, analysis would not be so difficult. However, due to the extensive stumping in his drawings, we are left with questions about early application prior to the final hatching.

The pattern of hatch direction that Prud'hon used is quite sophisticated. Managing the colliding groups that invariably result is very tricky. There is no written record of the thinking process that Prud'hon used in making his application decisions. Through close observation, certain "rules" have begun to surface, but there is no assurance that Prud'hon would agree with them.

---










Next Page: Observations: Prud'hon's Materials
What's New? | Shortcut
---
Entrances: | Studio -| Alzofon Art Institute -| Idea Library | Academy | Guest Wing |
---
---
Rebecca Alzofon can be e-mailed at rebecca@art.net
This page updated July 16, 2003


1999 by Rebecca Alzofon. All rights reserved.