The following is an interview that took place between December 2001 and May 2002 with De Decker Geert of Sztuka Fabryka. The interview was conducted via e-mail and the responses have been edited for content.

kiyotei: When did you create your website ?

Geert: In May 1995, I was contacted by a young man named Wouter Van Den Broeck who
was very interested in the Internet. He heard about a couple of young potentials who wanted to start up a website (as digital counterpart) of the big city Antwerp, he asked them if he was allowed to do the cultural part of this website. He was allowed to do so. Wouter heard about my activities somewhere and contacted me asking me what I was doing and if I was interested to join in. After his visit to my Mail-Art archive he was interested and I had webspace at the website. The first two websites were made by him and afterwards I started to make it by myself. It is only in 1998 that I had my personal connection with the world wide web. I believe that the Sztuka Fabryka website was one of the first websites about Mail-Art in Europe. That time here in Europe, the Internet was a phenomenon we only knew as practiced in the U.S.A. Only two years later, the Internet was definitely settled in Europe mainland.

kiyotei: Why did you want a web site?

Geert: In 1995 I was very interested in Cyberpunk and Art & Technology and all other stuff that is wandering around technology. Even today. So it attracted me that I was able to put something about Mail-Art on a computer and everybody in the world was able to read it. When you send out a text by snail-mail you know who reads it, but now you do not know who visit your site and that was excitement. Today I see my website as a possibility to give extra information about my activities and to distribute information about Mail-Art and my Archive in a cheap way. Publishing books costs lots of money but now I can do it in a cheap way unlimited. I see my website as a digital publication, not as a piece of art.
kiyotei: What kind of Cyberpunk are you referring too? Literature like Bruce Sterling?

Geert: No, it was more the art & technology side of Cyberpunk I was searching for. An important book I have found those days was "Mondo 2000, a user's guide to the new edge" in which a lot of outstanding information about the topic was included. Before cyberpunk I was very interested in the Industrial Culture. In both things I am still interested as they both are still underground cultures.
kiyotei: What is the industrial culture?

Geert: The "industrial culture"- scene was a group of deviant artists who have been working creatively a decade in varying degrees of obscurity. The impetus in common was rebellion. For example Throbbing Gristle, Cabaret Voltaire, Survival Research Laboratories, were artists who even the standards of today made shocking art. You should try to find something on the Internet about these obscure persons.
kiyotei: What do you think of the current trends in technology? Are you worried about frankenfoods, clones and nanobots?

Geert: I am not so worried about nanobots, but cloning and Frankenstein food is what should be regulated very much. At the moment I am preparing an action against "Myriad Genetics". "Myriad Genetics" is an American company who wants to make patents on the breast cancer gene BRCA1, as well as on all therapeutic and diagnostic applications resulting from the knowledge of the gene. If the patent is granted, Myriad Genetics will be able to charge
patients or the health service every time a diagnostic screening test is carried out. This will make all treatment ten times more expensive then it is now for patients and it will only be available for the rich. This needs some action.
kiyotei: Would you consider yourself an activist, or is that a common view by most people in Begium?

Geert: Most people in Belgium find this disgusting and the left part of our government tries to find solutions for this process. Such as forbidding to have access for genetic material from the clients by life insurance companies. I would like to be an activist but mostly I do not make the step from real anger towards action. Also because it seems that there is no space for it in Mail-Art. Ten years ago there was a lot of criticism in the Mail-Art network on the policy of Bush senior and the bad actor which was president before (forgot his name). But today Bush Junior is more stupid then his father and nobody even talks about it. Even what happens in occupied Palestine, complete silence in the Mail-Art. Mail-Art has no balls anymore.
kiyotei: So you think mailart should be more political? Do you think that art can change the world? Do you really think that artists swapping mail can make a difference?

Geert: It does not have to be more political, but more critical. Where is the critique of what is going on in the world in the Mail-Art community today? In the early days there were a lots of critics, but today you can count them on one finger.

kiyotei: What is mailart in your words? What is the state of the network and what is the "spirit" of mailart?

Geert: OK, times are changing, but are they changing in a good way when people who join the Mail-Art network and call themselves Mail-Artists also do not want to know what Mail-Art really is? When the old ones leave the Mail-Art Network these people will not be able to go on with the Mail-Art spirit. So that the true spirit of Mail-Art will finally die. A creative rush is OK, but must this be members of a knitting club or people who just send out junk mail?
Do you call a change towards mainstream art and what looks as a knitting club a creative rush? I do not need to explain to you what the "spirit" of Mail-Art is. If you have written with a lot of people and taken care to really want to know it, you would know what I am talking about. Not the mainstream stuff that is going on now at the moment.

kiyotei: I would disagree with that. I believe that the true nature of mailart is only defined by it's description, mailart: art sent through the mail. If the sender or the receiver consider it art and it is sent via postal route - then it meets my personal requirements. Do you think that there are more mailartists online than there were a few years ago. Are they making more mailart or less?
Geert: Yes, there are more Mail-artists now than ten years ago. But I do not know if they are making more Mail-Art than ten years age. You know I believe that ten years ago Mail-artists put more time into the making of a Mail-Art piece than today. Quality is less. It is becoming time that the time influence of Internet will get excluded from our snail-mail Mail-Art. And that we just take some more time in our Mail-Art and that each individual will work some more on his own personal creative style. Do you know that I always put a lot of time into each item I make? Even the making of a Mail-Art project flyer takes me 4 hours before I am happy about its design. The preparations and final printing is not included in this time. For some Mail-Art works, I take a whole year before I am happy to share it with others. I always try to bring quality to show my respect to those who I send it. I would feel bad if I sent junk to somebody.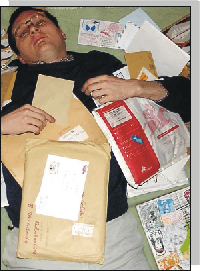 Geert and some of the mailart he has received
kiyotei: Yes, I would agree that people seem to have less time these days. Where are you physically located? What can you tell me about your country?

Geert: My correspondence address is in Tielrode, but I myself live in Sint-Niklaas. Sint-Niklaas is a town between Antwerp and Ghent in the Flanders of Belgium. What can I tell about Belgium. Belgium is a small country between The Netherlands and France. The last countries are well known around the world and get lots of visit from tourists, also from
Mail-Artists while it is a nice and interesting country which has a lot to offer. The people are friendly; we know what good food is; we have lots of good beer (ask English hooligans), chocolate and fries (which is a Belgium invention). In other words, Belgium seems for a lot of people around the world an ordinary country. But that is because we do not show off and
pretend to be the most important people around the world. Our ass is not the centre of the world as we see it. Come and see for yourself.
kiyotei: I know your beer is the best! One bottle here in the States can cost 7 or 8 U.S. dollars! That's expensive - but I love it. Are you serious that the french fry was invented in Belgium?

Geert: Of course the French fry comes from Belgium, it is a historical mistake that it is called French. But there are so many products from a certain country that are named from an other country.
kiyotei: I drink Chimay and I've tried other Trappist beer. What beer of Belgium is the best?
Geert: For the light beers I prefer Jupiler and for the brown beers Palm. The dark brown beers as Chimay and the Trappist beers I do not drink so very much. But if you like to drink those beers you should eat some Belgian cheese together with it. This is the best and most enjoy full food on the world.
kiyotei: I've heard that the "mussels in Brussels" are delicious - is that true?

Geert: No, because the mussels my mother makes are the best. Also her "eel in green" is very delicious and there are very good restaurants in the neighbourhood that make them. If you never have tasted it, come visit me in Belgium and we will visit some nice Belgian cities and have some nice Belgian food.

kiyotei: Sounds yummy! I just might take you up on that invitation. What does "Sztuka Fabryka" mean?

Geert: Sztuka Fabryka is Polish. "Sztuka" means art and "Fabryka" means factory. It is a name I have chosen to use around 1991 when I felt in love with Poland and its people. For Western people it is a difficult name, but by now I know that it is also a mysterious and exotic name for some people. I am glad that I have chosen this name instead of the ordinary "Art Factory."

kiyotei: Do you think that most European artists are aware of the Internet's potential as a source of networking and resources?

Geert: Off course they do. Many of them use already use the Internet for spreading the news of their networking through e-mail. But maybe we have still a medieval background and see e-mail and Internet as an instrument and not as a goal. Maybe this is completely different with America. But I am not sure of it. After all a picture send through e-mail gets deleted immediately but when we send it by snail-mail it has more emotional value.
kiyotei: What do you think of the Euro?

Geert: Besides that everything is getting a bit more expensive. 1 Belgium Frank = 0.024789 Euro so a beer of 50 Belgium Frank will be 1.239468 Euro but the pubs will make from it now 1.4 or 1.5 Euro. Besides this it is off course very good. Imagine in 3 days I can pay in 13 different countries with the same currency, so in the future I can pay people from abroad who perform at my Festival in a currency also used in their country. When I want to go on holiday in another country now, I do not have to change money anymore. In April, I will go to Venice for a performance, now I do not have to change money anymore and this will save me money and troubles with foreign currency left over.
kiyotei: Are there very many mailartists in your country?

Geert: Yes, I believe so because when you compare it with the other bigger countries of Europe there are many Mail-artists. Some of them are operating constantly in Mail-Art. I am one of them, I do Mail-Art everyday. While others just do some Mail-Art sporadic or are active now in other fields. But it is getting time for some new and fresh people who are active in Mail-Art every day.
kiyotei: How do you make your mailart? What do you use for materials?

Geert: I make all designs first on the computer and print them several times on an A4 paper in equal 4 times. This way I can copy them, divide in 4 and have works or flyers which fit very well in an envelope and also I use the complete space that the paper gives me. Of course sometimes the size of my flyers are different, but always not any part of the paper is spoiled. As material I use mostly paper and sticker paper. It is always the same paper, sometimes in a different colour.
kiyotei: How many hours a day do you spend on research for your web site?
Geert: About 7 hours a day I spend on Mail-Art, for which I spend about 1 hour for my "Mail-Art Encyclopaedia" and 1 hours for e-mail and website.
kiyotei: What do you plan for the future of your Mail-Art Encyclopaedia? Will you publish it (hardcopy)?
Geert: There are already now hardcopies available, which I send to some people. But maybe in the future a book will be published if there is the funding or good propositions and if they will be available for everybody (rich and poor) within the Mail-Art. But this is future music. It is getting more and more difficult to send hardcopies, because more and more pages are being added to the "Mail-Art Encyclopaedia" and this makes it more expensive for me. But I keep sending them out.

kiyotei: Why do you think mailart is so popular?
Geert: Because it is so powerful, you have so many friends all around the world with whom you are able to share your own individual expression. Individuality in a collective philosophy.
kiyotei: Do you have any other hobbies/talents besides mailart? Music, oil painting, tap dancing...etc.

Geert: Do you really want to know what I do beside Mail-Art?
Sport: fencing
Collection: I collect everything that comes from the former East-European countries
Artistic expression: graphic, painting, sculpture (papier mache), music (just started to make music and hope to make a CD at the end of this year).
Maybe I forgot something, can I count my Mail-Art Archive with the talents?
kiyotei: Sure. You are a multi-dimentional Renaissance man! Wow - very cool - how long have you been fencing?
Geert: Since May 1997, so now about 5 years. I am not talented in this sport, but because I am big and with long arms, my defense is very good. This makes that I can touch my opponents first before they touch me. Fortunately, I've never a bad accident.
kiyotei: Do you speak Walloon?

Geert: You mean French! Yes, I had to study French, because in Belgium there are two official languages and we should speak them all. Only the Flemish people speak them all, the Walloon does not speak or does not want to speak the Flemish language.

kiyotei: What do you do as an occupation (work)?

Geert: I work at the drawing department in a hydraulic laboratory for the Flemish government. This hydraulic laboratory studies everything which is going to be changed on the Flemish seaside and waterways, to see if it gives no extra influences and problems. These studies happens on physical scale models or digital models. Nice and interesting thing to do.
kiyotei: You are an architect? or a draftsman? You draw blueprints by hand. Or do you use Autocad and computers?

Geert: No, I am not an architect, this was a study which I had to stop. Later I finished the studies for building constructor. I use AutoCad and some other GIS-software for all the jobs I have to do, because each job they give to me is different.
kiyotei: Tell me something about your family?

Geert: Just a normal family, father is on pension and lives with my mom in a big house they made for themselves several years ago. And my sister lives with her friend and little boy on the other side of the country (150 km from here). Just a regular normal family who enjoy themselves and watch television in the evening.
kiyotei: Do you watch a lot of TV? What kind of shows do you watch? Do you get many American sitcoms there?

Geert: I have a television, it is situated on my left side. It is always on, but I am much too busy with Mail-Art to watch it. I do not watch television, I listen to the television. Yes, there are American sitcoms, but I do not watch them, they are too stupid for me. I watch some documentaries on National Geographic Channel and some Belgian programs. But what I prefer and for which I stop doing Mail-Art are the British detective series as "Inspector Morse" and "Frost". Both are very wonderful pieces of television.
kiyotei: I've never heard of these programs- are they like Sherlock Holmes?

Geert: No, Sherlock Holmes is 19th century. These detective series has their story today. They are not as American series in which a lots of car crashes and shooting happens. By the way in American series the police office always looks as it is open door there or it is situated in a shopping mall. It is strange that you do not know "Inspector Morse" because it has a lot of fans from the U.S.A., so it must have been broadcast there also.

kiyotei: Well, I usually watch the news and a movie now and then, but not much tv, so I probably missed that series. How do you feel about "American culture" - Do you want a McDonalds in your hometown?
Geert: I hate American culture, it is all crap. And that is because I hate mainstream art which is nothing else but quick made art that sells easy in a very short time. So that a quick need of customers is fulfilled and that later on they can sell something new to the customers. Is this not entering Mail-Art also, people who are searching for quick thrills? Constantly creating new thrills within Mail-Art, instead of working on a long year project? Therefore my idea also that each Mail-Artist should be as a medieval monastry.
"Monastery: A monastery in the middle-ages were the middle points of culture. Each monastery practiced on a high scale philosophy, science, art, study, books, ... and each had their speciality. Sztuka Fabryka believes that each Mail-Art Archive and artist should be a contemporary monastery of the networking culture. A node in the network on a high scale of quality active within his/her domain, and working close together with others to spread the ideas of the Mail-Art network." Again based on my idea that Mail-Art is "Individuality in a collective philosophy". I need medieval and 19th century atmosphere to feel good. No ersatz but reality.
kiyotei: That's an interesting idea. As long as there is booze and women- I'd join. What would you name this monastery?

Geert: "Sztuka Fabryka residence" of course, what else do you think?

kiyotei: What do you predict for the future on online art?

Geert: I believe that not much is going to change. Because Internet companies do not flourish on the Internet, in fact they are transforming into companies with physical shops. Why should online art transform in the future into something that is different from now. The problem is accessibility. Everybody says everything is possible with the Internet and it is available
for all who are connected to it. But they forget that you have to know about it and find it. The website of the Louvres is something everybody can find and which everybody knows about. But when I, or you, will start an online only gallery, you must make a lot of advertisement to let it become known. And those who know it will visit it maybe only once because there are so
many other websites with the same idea and concept. Only if you are very good they will come twice, but this ask so many time that it is physically impossible to reach this goal.
Also if people will start to exchange art through e-mail this will have a quick death because it will betoo easy and get boring after a while. Read my essay "Critical notes about e-mail-art!" for more information about this subject.
kiyotei: In America we had a big shakeup on the Internet. Many corporate sites are now gone and there is a definite sense of business-jitters. Companies are not sure if they can make money and it's expensive to try so they don't. Did you see any changes in Belgium and Europe in the last year or so? Is the Internet growing in Europe or receding?

Geert: I believe that it is growing very slowly at the moment and this process is all right for me. It has become a part of our lives now. With the e-mail as communication media and the Internet as a source of information and that's it. There were also a few companies who tried to put up online book and record stores. After some months of advertising you hear nothing of them anymore. Who is buying books and CD's online anyway, I don't.

kiyotei: I guess I do. I am trying to rebuild my music collection and many of the CD's are hard to find in the local record stores. I can find OOP (out of print) music much more easily on the Internet.
I just got a great catalogue documentation from Baudhuin Simon of Belgium and some other artists for the "Wasted Angels" mailart call. It was very nice. I saw your entry for the call (#17) and it is excellent! Do you collaborate with Baudhuin?

Geert: Personally I do not collaborate with Baudhuin in setting up a project, we are both different individuals, it will bring problems. But we are good friends, I have visited him several times in his very wonderful house at the Ardennes. And he visits my Festival also always for which he stay over at my house. There is a close connection with the Mail-artists of Belgium, each are strong individuals. But it is always great to have them all together at
my Festival. And this year with lots of visitors from outside Belgium.
kiyotei: What is the "My festival" that you refer to? Can you provide a more complete description?
Geert: On the 6th of April this year (2002) there was the 14th issue of my Festival. It is a Festival with independent music performances and Mail-Art. I started with this Festival in 1988 and today it has become a well know independent art Festival with visitors from all over Europe and even the world. At this Festival I am responsible for the Mail-Art, artistic
performances, video, . This is all taking place in a space called "The Playground". Next issue number 15 will be on Saturday the 12th of April 2003. This will be more than the past years an international Mail-Art meeting with a discussion about Mail-Art in the future and a program with performances, music, video, and an exhibition of the yearly Mail-Art project.
kiyotei: Wow, that sounds like a fun time. Have you met any other mailartists from countries outside of Belgium?

Geert: Yes, several. At my festival this year there was Emillio Morandi (Italy), Ryosuke Cohen (Japan), Peter Küstermann (Germany), Henning Mittendorf (Germany), LaVona Sherarts (U.S.A.) and Dawn Redwood (England). There has been some visits of Mail-Artists here in Belgium. I have met several others in Festivals outside Belgium as John Held Jr. (U.S.A.), Dobrica Kamperelic (Yugoslavia) and during my travels in Poland and other countries in Europe I have met several others. To many people to name in fact.

kiyotei: How do you promote your website. Do you use the Usenet newsgroups or art message boards?

Geert: Sometimes I put some news on newsgroups or message boards. Put there is too
much information on such boards that people read it quickly and forget it afterwards. I believe that you maybe reach 1% of the visitors. I promote my website through my personal communication. I put my website URL on each publication, flyer, e-mail and underneath my address. I hope that the reader will visit it. And I believe that when your website is very good the visitor will come again. To many artists have only a website which is dedicated to themselves, that is not bad. But sometimes it does not contain extra interesting information and that is mostly a pity. Through my website I want to give extra information to the visitor, information they do not find at other websites. It is also that the pages about my own work are not finished even after 6 months with my new website. With other words it is quality I believe in and that is the best promotion for a website.
kiyotei: Your website has a lot of great information and you have links to some great sites. Aren't you afraid that by offering visitors so many links - you will lose them to another site? Most web developers will tell you to keep your external links to a minimum.

Geert: No I am not afraid that I will lose visitors to another website and I do not care what web developers say. My website is at it is. And I believe that it is an interesting website and that is what I hope to establish. If I make my website interesting and provide some real interesting information which they might not find on other websites I believe that the visitors will keep on visiting my website. Providing a lot of links with a description is one of the items that makes my website interesting, I think. In April there were some 466 entries to my website and it is climbing towards 500 entries. This proves that my website must be interesting and I keep on working to make from it an important source of information about Mail-Art.
kiyotei: Geert, thanks for taking the time to talk to us. I look forward to visiting you some day and taking you up on your offer of "eel in green" and a Palm beer. Take care my friend- I'll see you in the mail!"
Geert: You are welcome to come to Belgium. To see for yourself that one of the little countries in Europe can be great in food and atmosphere.
Sztuka Fabryka's contributions to Dog's Life and X-Ray Spex mailart calls.