The following is an interview that took place between December 2001 and September 2002 with Kat Pukas. The interview was conducted via e-mail and the responses have been edited for content.

kiyotei: When and why did you create your web sites?

Kat: Milky Scarabs was created Thursday, January 14, 1999. It was originally on the University of Arizona's server, but I have moved it to an Earthlink server. Earlier (1997-1998), I had a web site named Buddha's Bellybutton on the University of South Dakota's server, but they deleted it; it was mostly poetry and computer art. MS, I believe, was created as an expression of beauty and coolness... maybe a little "use it or lose it" mentality thrown in, as the university gave me the webspace free. BB was made to fulfill an assignment and became an on-again-off-again sort of tinkering hobby.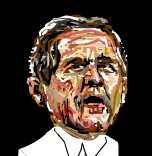 Plastic Tree Branch was created Monday, November 19, 2001. It is an ezine, basically meant to give Reuben and me an impetus to create something new every day. The first rule is to change the googaak every day; the second rule is to change the logo every day (now each logo's design is based on altering the previous logo, etc.). Hopefully, after those two have been accomplished, we still have the energy to make something else (a Flash toy/game/entertainment, an animation or exquisite corpse animation, a 360-degree panorama, a cube panorama, and/or accompanying music).



The Fill My Postcard Rack! site was created July 30, 2000, to document and showcase the works received for the Fill My Postcard Rack! mail art project I organized.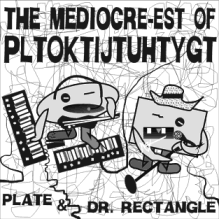 I became affiliated with the Slowly the Ghost Records site around November 1998 and have been mysteriously connected with them ever since. It started with wanting to make a fake foreign band in the dormitory and record music (Graquelrara). Later, music projects would arise, such as making a whole album (in five hours?) to go along with the persona and titles on a cassette j-card for music I've never heard (Redd), making a CD whose "titles" and "lyrics" are all verbatim from a CD-booklet-shaped giveaway oral-contraceptive brochure that no one wanted (PiLL TaLk), pure improvisation and art packaging (Plate & Dr. Rectangle), etc.

kiyotei: "milky scarabs" is your nickname, what does that mean to you?

Kat: "milky scarabs" is from a line in an old poem I wrote. The poem documents the locations of every scar on my body. I refer to the cicatrices as milky scarabs.

kiyotei: So you are a poet? Could you share some with me?

Kat: Yeah, I suppose I'm a poet, even though I don't particularly like poetry. Once upon a time, I was majoring in poetry and minoring in studio art at the University of South Dakota. I used to have my poetry online, but once I switched the major and minor around, I wanted to make it seem more official by changing my online focus to visual art... Here's a poem I wrote:
marrying you
three times
i've married you in
the church of my mind.

third.
Thrift City gown, missing pearls,
comical train, petticoat
to complete the whiteness.
internet album:
a happening, upsets two or three.

second.
collage clergy, photocopier altar,
fat wedding catalogues poised
to trip april dawn,
valentines dispersed:
toner black, wedding white, red wishes.

first.
in question only,
would it be okay if—? my mother crying on the phone:
marriage
idea
marred.


kiyotei: Cool poem—lots of mail art references. What does it mean to you?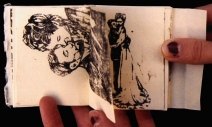 Kat: It's about the three times that I have "married" Reuben, in reverse chronological order. Third, with a cheap thrift store gown and digital pictures that were posted on the Internet; second, in the university's library via collages and xerography (valentines with the image were sent out to the family); and first, just innocently asking my mom and having her freak out in a negative way. Sort of a best to worst order.

kiyotei: Why would your mom freak out about Reuben?

Kat: This probably owes to the fact that I "ran away" (or, as I prefer to express it, "ran to"), at the age of 18, to meet him for the first time.

kiyotei: How old was Reuben at the time? Where did you run to? Another state? Sounds like a Romeo and Juliet tale!

Kat: Reuben is exactly half a year older than I am, so he was 18 (going on 19) at the time. I took a flight from Rapid City, South Dakota, through Denver to Tucson, Arizona. Yeah, I suppose it was a bit of a modern, angsty Montague vs. Capulet situation; an email from my mother, threatening the involvement of law enforcement authorities, proceeded my arrival and everything.

kiyotei: Do you have any goals for your web sites?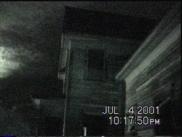 Kat: It's just another way of putting my creation out there in the world. I spent most of my adolescence getting insinuated into different self-incriminatory art/writing/music situations/communities, first via USPS, then on the computer via old-school Prodigy and Compuserve (late 80's/early 90's), local electronic bulletin boards, the Internet, Internet auctions, and different combinations thereof. Often these days, the "reason" is just art for art's sake. And it's always an added push when I realize that I am only using about 12M of the 80M webspace that is already prepaid through the summer of 2002. Ultimately though, I hope to divorce myself entirely of computers, the Internet, television, technology, and electricity... and ride out this life as a subsistence farmer/artist in some old haunted house.

kiyotei: Haunted houses are great! I have a soft spot in my soul for run-down abodes. Do you really think you could live without television and computers?

Kat: Absolutely. I probably did it when I was an infant, right? Right now I'm selling off nearly everything I own, bit at a time. If I decide that an object is not worth the space that it is taking up, I give it away or auction it off. I live without television most of the time, in fact (it gives me a big headache).

I purchased this computer due to a lesser form of peer pressure, and sometime in the future, it is going to be given away to that someone who initially convinced me that I/we needed it. At this juncture, the Internet is good for getting rid of stuff, selling some art, and communicating with my very small circle of friends and family. It's a voyeuristic place online, and someday I'm just going to extract myself from being watched, being available, being exposed. I like to be an enigma whenever possible. Give some people a taste, and they begin to salivate...

The less I have, I think the happier I'll be.

kiyotei: What did you mean by "self-incriminatory" art?

Kat: Ohhh, though I didn't use this terminology back then, I would lock myself in the bathroom and make artist's books by inking up and stamping with various body parts. Many of my envelopes from that era were sealed with the typical lipstick smooch and the words "Postally Promiscuous" written along the flap. I was a total mail slave.

kiyotei: Boiiiiiiing!—I love it! OOPS sorry [kiyotei dons his professional cap again].

Kat: *blush* I was prone to exaggerate everything in those days in the name of interesting writing and artwork (and perhaps I still am). Rest assured that I am far from promiscuous in actuality.

kiyotei: Why do you collect envelope windows?

Kat: So they don't get thrown away! Back in 1999 or before, I began to cut them out of the envelopes because I thought that the paper could not be recycled with the plastic still attached. They come in great varieties of color, size, and pattern that people really aren't aware of. I save all the "clean trash" that I can (milkcap rings, blisterpack plastic, etc.) and recycle everything else.

kiyotei: What is blisterpack plastic? Is that like bubblewrap?

Kat: Blisterpack plastic is the clear plastic that is formed over the front of the object/product (say, a pair of scissors, a lineup of ball-point pens, etc.) and is attached to a backing piece of cardboard. See Pogo's Vest and Plastic Vest for photographs of blisterpack plastic sewn together into clothing.

kiyotei: Do you have any photos of you wearing your blisterpack? I think it would make a great addition to the article.

Kat: I don't, but I have recent unreleased pictures of me in the envelope window gown, which I bet I look better in than a blisterpack vest. The gown is on display at the Palos Verdes Art Center's "Wearable Expressions" biennial exhibition from November 2002 through January 2003.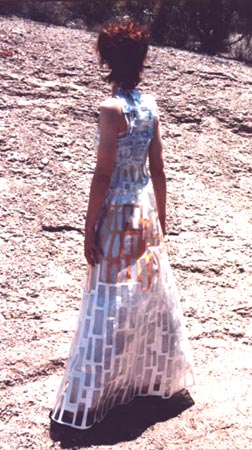 Here's Kat modeling a lovely envelope window gown

kiyotei: What other postal items do you recycle?

Kat: Recently I incorporated red postmarks of a specific diameter (there are at least three different sizes) into some art-clothing I was working on. It is a formal jacket with coat tails—all made of sewn-together envelope windows. I wanted the details of the garment to also have a postal theme, so I covered each of the ten buttons on the jacket with a postmark; I made certain that each postmark was from a different origin. I also used rolled up mailing tape as laces on the back of the long, full-skirted envelope-window gown (pictured above). Reuben and I wore these garments, respectively, at a recent art opening in Tucson (I had to feed him like a baby because his jacket sleeves were so inflexible!).

kiyotei: What is your history of involvement with mail art?

Kat: I suppose I started mail arting in earnest in the summer of 2001...? Before that (the 90's), I was a very mad pen pal to a large number of people in the "mail underground," mostly independent bands (Kenyata Sullivan and the now-defunct Pandora's Lunchbox, Dave at Wheelchair Full of Old Men Records, etc.) and zines/chapbooks (Joe Coffee at R.I.P. Speed Co., Paul Weinman, Bangkok Splendor, etc.). Even then, I managed to make every mailing an artwork, visually and/or literally, but I didn't call it mail art at the time.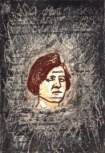 I am more likely to respond to mail art calls that have an interesting, mystical, vague, or free theme: woman, infinite regression, circles, cult/icon/diva/hero/star, jokers, enchanted ink, mermaids, my postman, faeries, chaos, the goddess is alive and magic is afoot, Dali, dreams, prostitution... Also, it's obvious that the call will carry weight in my mind if an exhibition or catalogue or documentation are mentioned, or the organizer seems genuinely committed to the topic. I want the art to be able to breathe a little.

kiyotei: Have you made any artist trading cards (atc's)?

Kat: No. Someday I will, when I get over how "baseball-cardish" they sound. :(

kiyotei: Have you ever met another mail artist? Do you think that helps (or hinders) the process? Mail art congresses were popular events; do you think they are a good idea??

Kat: I guess I have never actually met another mail artist. I've been in the same room as someone who participated in my postcard rack project, but how could I ever dream of approaching him in real life, after I wrote him personally when I sent him the catalogue and he never responded? HMMMMMMMMMMMMM????

Never meeting someone, in my eyes, can help the process more than hinder it. I have such huge faith in a person's individual expression that I don't really care if I ever meet him/her. For example, I found my soulmate and best friend, Reuben, on the Internet; both he and I knew it before we ever met in person. About a week into our initial email correspondence, we still didn't know each other's age! When the question came up, I told him that I would be absolutely content if I never ever knew his age. Many months later, meeting Reuben for the first time was just how I imagined it would be.

Getting hung up on the details is what hinders relationships; all I need is the essence of the person, their true self, how they respond (or if they respond!) to me from a distance in the present moment. How much someone appreciates a letter/email/chat/phone-call or how much they take it for granted... How quickly or slowly they respond... How much a person allows the "BUT YOU'RE NOT REALLY HERE IN PERSON!!" to interfere with the quality of the relationship... These are the aspects that reveal the true person to me.

Distance distills the true self, and I drink it up.

To conclude, in a mail art congress, I would be a silent but very intense listener.

kiyotei: Do you think there are more women or men involved in mail art these days?

Kat: Well, it's hard for me to say. I believe it is roughly equal, in my experience... maybe a little more female than male... but often the mail art nicknames people use are androgynous, you know... and I will even blatantly disregard obvious clues to the artist's gender (i.e. she will mention her "husband," and still I will continue to refer to her as "he" because of the initial idea that her nickname conveyed to me, and I don't really care about the gender/age/etc. of the artist anyway in most cases.)... It's more about the art.

kiyotei: What do you think about the quality of mail art you receive?

Kat: It's primo, personal, intense, humorous, innovative stuff usually. I enjoy it.

kiyotei: What did you major at in college?

Kat: Didn't I mention this before? I graduated with a major in studio art (2-dimensional, printmaking) and a minor in creative writing (poetry). (While I was at the University of South Dakota, I majored in English [emphasis in poetry] and minored in studio art.)

kiyotei: Oh yeah...guess I wasn't paying attention again! Are you originally from S. Dakota? (lotta open land out there)—almost got run over by a drunken driver last time I went through.

Kat: I apologize on behalf of that drunken driver; unimaginative people in "Soused Drunkota" really have nothing better to do. Some driver sped through a solid red light and nearly ran me over in the middle of the crosswalk so that he could speedily pull into the Burger King parking lot just a few yards away. That was in Vermillion. In what town was your unfortunate brush with death?

Perhaps understandably, I want to erase my history in South Dakota... but here is the sordid run-down:

Born in Valentine, Nebraska.
Lived 1 year in Rosebud, SD (Indian reservation).
Lived 7 years in Aberdeen, SD on Richmond Lake: kindergarten-2nd grade.
Lived 2 1/2 years in Olney, MD (north of D.C.): 3rd-5th grade.
Lived 6 years in Black Hawk, SD ("west-river"): 6th-12th grade (high school in Sturgis, SD [famous for the Sturgis Motorcycle Rally])
Attended 1 1/2 years at University of South Dakota, Vermillion, SD (Burger King, anyone?)
Finished undergraduate career at University of Arizona, Tucson, AZ (and have always hated the cold!).

kiyotei: I don't remember what town was nearby, it was mainly a long and lonely interstate. Why do you want to erase your history in S.D.? There is some beautiful country there. Wide-open spaces are good for the soul.

Kat: Wide open spaces can suffocate the soul of a non-driver. Also, if one looks up the word "conformity" in the dictionary, there is often a small map of South Dakota there as an illustration.

kiyotei:
You said you lived on the Rosebud Reservation. Are you a Native American?

Kat: No, my father worked for the Indian Health Service at the time.

kiyotei: What can you tell me about the "teeny books site" that isn't available on the web site? Have you received any really strange stuff?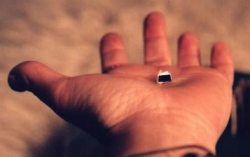 Kat: The teeny books web site has a very short history, since I just made it several months ago. I am only really affiliated with the project, which is run by etta cetera (her email address is available on the web site), via giving her books I've made and by creating the web site for the project. I myself haven't received any "strange stuff" (I haven't seen very many of the teeny books in person [etta's in Pittsburgh, I'm in Tucson, and we do everything, including updating the catalog shown online, via mail]—I have only the few books that I receive through the exchange [I've sent in "5 books" multiple times, and receive some of the other works in return]). As far as I know, there isn't really anything that's "too hot to publish" (in the webpublishing sense or otherwise); etta even accepts books that are "larger than a very large hand" to the collection even though it's the miniature library.

kiyotei: Do you currently read any zines? What are they and why?

Kat: Not really... The last zine I read, I think, was Street Ratbag, No. 5. etta cetera (teenybooks queen) sent me it. It came with a CD of experimental sound; some of the tracks on it were really quite refreshing to hear (this from someone who is very nonconformist). The zine has a handy article about making a composting toilet, which I am intrigued with, since I'm such a hippie-goth. However, I read less and less, preferring to do the writing instead of the reading; a lifetime spent in school (sometimes in the guise of "English major"!) has sapped much of the spirit of "leisure reading" from me. Someday I may get back into it, but not anytime soon if my life continues like it has.

kiyotei: Describe the term "hippie-goth."

Kat: A walking contradiction. A complex set of paradoxes. Hippie and gothic.
For instance, nonconformity is my middle name, and yet I want to wear a steel-boned corset, a sort of a remnant of the conformist age. I have a strange love/respect for anything from the past (like corsets), but I am also certain that had I lived back then, they would have locked me up for my nonconformist/progressive ideas. Organic/eco-conscious and black carcinogenic dye/heavy makeup. Smiling and melancholy. Altruistic (giving away belongings/commune-farm) and vain (expensive clothes/mansion). Living a carefree life and obsessed with the romance of death. It's odd, but rather fun.

kiyotei: What artists/styles/movements do you most relate to? Why?

Kat: For their eco-friendliness, I love Tony Cragg (picking up bits of plastic and arranging them into leafy designs) and Andy Goldsworthy (striking, ephemeral, all-natural site-specific works). Pre-Raphaelite (often connecting poetry and artwork), Italian Futurism (gorgeous sense of movement), Art Deco and Art Nouveau (I love the 20's and 30's), Surrealism (fascination with weird images and dreams), and Dada (the concept *is* the artwork) appeal to me.

kiyotei: Tell me something about the place where you live now.



Kat: I live in a very small space, and when I make art out of various materials that I collect (envelope windows [my grandmother and best friend T.J! send me these], blisterpack plastic, any "clean trash," etc.), the resulting artwork always takes up more space than the materials did. For instance, I've recently been putting together a gown and a jacket with coat tails, all out of sewn-together envelope windows. They are obnoxious, loud, crackling artworks that take up at least twenty times as much space as the humble box of envelope windows that they once called home... but they're absolutely gorgeous and worth it.

I keep small quarters, and everything is basically in cardboard boxes that are piled up on each other in the corners of the room. The boxes aren't labeled, but I know what is in each of them. Someday I want to get some furniture and more closet space... but as it is, I am practically packed and ready to move at a moment's notice, which is a good thing because I do plan on moving.

Or did you mean about Tucson? I don't get out much. I don't have a driver's license. There is a saguaro in my backyard, the quail are cute, and the javelinas are smelly.

kiyotei: I've got quail in my backyard too. BUT You've got javelinas in the backyard? Cool. How about coyotes?

Kat: Thanks for reminding me of my dream. I dreamt about coyotes. Yes, they came the other night and stomped in the big pile of sand back there.

kiyotei: Do you know any coyote stories?

Kat: The University of South Dakota's mascot is a coyote. While attending school there, one must pronounce "coyote" as "kai-yote" or one will be beaten. Now that I'm in Arizona, I can, once again, pronounce "coyote" as "kai-yo-tee."

kiyotei: Who's cooler: Brady Bunch or the Partridge Family?

Kat: I guess the Brady Bunch; I never really got into the Partridge Family because of television channel limitations... but I suppose I have seen a lot of episodes of the Brady Bunch. I wouldn't really say that either one is "cool." You really have to be cool for me to say you are cool because I mean what I say, and since I'm so into nonconformity, a TV show family is just too mainstream to be really cool... for me anyway.

kiyotei: Can you share something with us that would be interesting to know?

Kat: Hmmm.... Does this imply that everything else I've said is uninteresting?
I feel androgynous. I tend to do vertical pieces, not horizontal pieces (does it owe to the fact that I'm over 6 feet tall?) I don't have a driver's license. I'm a vegetarian. I sought out natural foods, cosmetics, and the moku hanga (Japanese woodblock) printmaking technique specifically for their non-toxicity. I have very few friends. I hope to get my MFA someday, and it's actually a secret that I'm applying right now. I haven't killed anyone.

kiyotei: Actually... I've found everything you have said quite interesting indeed. Thank you for sharing your world with us and I hope to see you in the mails. Take care, my excellent friend.

Kat: Adios, muchacho.