The following is an interview that took place between December 2001 and January 2002 with Gerardo Yepiz. The interview was conducted via email and an in-person studio visit. The responses have been edited for content.

kiyotei: When and why did you create your website ?

Gerardo: Artepostal.org.mx was originally launched at the end of summer 1995. It wasn't until the end of 96 when I got the domain name. It was the first Mail Art website published in Spanish. I created my website to expand my network and to interact with other individuals into the Mail Art stream.
kiyotei: Why do you think any artist needs a web site?

Gerardo: A website is just another medium to get the word out, it's really helpful. But there's got to be something really unique to offer, something special. Internet world is about content, without it there's no need for a website.

kiyotei: You are very correct. And your site has some very nice artwork on it . . .or should I say content! What is the goal/reason for your website?

Gerardo: Actually the website exists to provide reliable, easy to use and understand information for everybody, not just Mail Artists. It is designed with the minimum resources and it loads pretty well even on the slowest connections. I no longer keep artepostal.org.mx updated. I have tons of information, but don't have the time or the mental energy. I'm currently working on this project: http://www.acamonchi.com

kiyotei: What is your connection with "Obey Giant" and the whole posse thing?

Gerardo: I work with Shepard Fairey.

kiyotei: You mean like a day-job? or are you part of his poster-making art empire? Seriously, I saw some of his posters that were for sale at Ducky Waddles in Encinitas, California.

Gerardo: I do his website, I used to be at the office, but now I work from home. I see Shepard from time to time. I don't want to talk too much about him he's too big now. You should visit my studio in SD. lets meet, (phone number).

At this point the interview was in person. I called Gerardo on the phone and we met at his studio in North Park, a residential and Shopping district in the heart of San Diego. I first saw Gerardo as he was walking on the sidewalk and I was driving towards him as instructed by cell phone. We each had a phone in our ear and he directed me to the parking area behind his studio.
As soon as I got out of the car and shook hands with him, a maintenance person from his building asked Gerardo to open the studio so he could work on the electrical system. I grabbed my digital camera and followed them into the studio.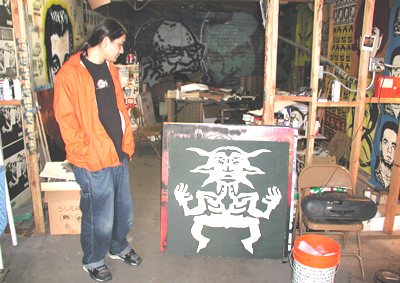 Gerardo in his studio
I was immediately bombarded with brightly colored artwork from floor to ceiling. Familiar faces like Mr. T, JonBenét Ramsey, Bob ( from the Church of the Subgenious) Luis Donaldo Colosio(the presidential candidate assassinated in 1994 inTijuana), and many other faces that I did not recognize. I snapped a few photos while Gerardo talked to the maintenance guy.
Gerardo is a striking character with his distinctively chiseled features, a long ponytail, earrings and a bright orange jacket . He is very soft-spoken, intelligent and proud of his Mexican heritage. He loves showing off his paintings and talking about his many projects.
After looking around a bit, we sat down and discussed a few items and I read a list of questions.
kiyotei: When did you start sending out your mailart?

Gerardo: I started sending my work by mail in 1986. I used to send out a lot of stuff, but I don't have time for it much anymore. I got to meet some other mailartists in 1999 at the Philatelic Museum of Oaxaca. I met with Clemente Padin and Jas Felter. They were both very cool people.
kiyotei: When did you move to San Diego?

Gerardo: I moved here in 1997 from Ensenada, Mexico. I still go down there a lot. It's where I really belong. When I get a little older and am well-off financially, I intend to move back to Mexico and open up an art school for children. I want to teach art for free to kids.
kiyotei: That's a cool goal! I love Ensenada. I like hanging out at the clubs. What kind of music do you like.

Gerardo: I like to catch some Nortec music in Tijuana.
kiyotei: What is Nortec?

Gerardo: It's a hectic mix of norteño music, Tex-Mex sounds, ranchera guitars, banda music, polka music, horns, and beats mixed with electronic and experimental sounds. The themes are usually about love, betrayal, and loss and can be very machismo. Sometimes the songs are about Tijuana drug lords. I have done some large posters for some of the bands. See those pictures over there? The one that says Bostich. That's one of the band members.
At this point, there is a loud pop and sizzle and the lights go out. A small cloud of smoke slithers around the overhead florescent light and gathers on the ceiling. We both jump up and check it out. The maintenance man comes in and tries to explain what happened. It smells like burning rubber. He says that the transformer must have blown. Gerardo is upset and while he talks to the man, I slip off to take more pictures outside the studio.

The paintings look great out in the sunlight. He uses a combination of house paint, spray paint, and stencils in his artwork. There are many recurring themes like police cars, asthma inhaler's and missiles.
I overhear the conversation about the electrical situation. It seems like Gerardo is a little worried that he will be without power or that there might be an electrical fire that will damage his work. Looking around at all the paint cans and paper and wood in the room, I think he has good reason to be concerned. The maintenance man assures him that everything is okay and wanders off to do more testing.
kiyotei: (I point to the painting in the middle, the one with the guy on the telephone) There are a lot of pictures of this guy, who is he?
Gerardo: His name is Raul Velasco. I call him the Lawrence Welk of Mexico. He was the host of a very popular television variety show in Mexico. It's all very tacky. He's very powerful in the media. That's what it is like in Mexico, If they don't like you, you never get on the television. You have to make the right connections.
kiyotei: When did you move into this studio?

Gerardo: Me and my partner, Havok, moved into this place in November 2001. We are getting a great deal on the rent and there is a lot of things we can do to fix it up.
kiyotei: How would you describe your work?

Gerardo: The style of work can be called "Street Art" or "Guerrilla Art." The kind of stuff you might see in graffiti, but we are not like in a gang. We want to mix American and Mexican icons together to create an "urban feeling." Like on the acamonchi web site, it's all about border-slang and messing with language. Our manifesto is meant to provoke and be a joke at the same time, we even want to make fun of the name "acamonchi" and called it "caca"monchi sometimes.
kiyotei: What has been the reaction to your acamonchi pages?

Gerardo: A lot of people have gotten pissed off some of the words. Mainly professionals or teachers in Mexico. They don't understand what we are trying to say about our cultures. I get hate mail about the site sometimes.
kiyotei: What does "acamonchi" mean?

Gerardo: Acamonchi means "piggy back riding" in kid's slang from the north of Mexico where we come from.
kiyotei: Tell me about the zine?

Gerardo: The zine comes out every once in a while, is all about visuals, but hopefully number 4 will be a multi colored offset.
kiyotei: Do you consider graffiti like the stuff on http://www.graffiti.org/ as art or a crime?

Gerardo: Sure it's art, when it is done well, not just tagging. Teenagers get a little rebellious but the creative energy is there. It's an act of rebellion. It is action. I am an agitator, I do my action through art. My involvement is through visuals and graphics.
kiyotei: So what other projects are you working on now?
Gerardo: I'm currently working on a video of skateboarding and guerrilla art. I also sent some paintings to Tokyo, Japan for display in the "Festival of Mexican Art." I am also getting ready to exhibit some paintings in Paris.
kiyotei: Wow that's pretty cool. Are you a skateboarder?
Gerardo: Yes.
kiyotei: Well that is almost a crime around here - so you are the vicious criminal type -mailartist, skateboarder and graffiti artist! Thanks for the interview Gerardo, It was cool meeting you in person. Good luck with your upcoming overseas exhibits and let's get together again soon.