The following is an interview that took place in July and August of 2001 with Ed Giecek. The interview was conducted via email and the responses have been edited for content.


kiyotei: When and why did you create your website ?

Ed: I started selling my watercolors on eBay
in May of 2000. I gradually learned more about html and how to use it on the internet. In June of 2001 I started my own website. Most people want to know a little about the artist they are buying art from. At my website people can get a glimpse of how I look. If that doesn't scare them off, they can go on to read about some of the awards and honors I have received for my watercolors over the years. I have some of my watercolors and collage paintings for sale
at the website
and a link to several paintings that I have recently sold.

kiyotei:
I bought one of your watercolors online and I was worried that the color might not look the same due to the scanning process and differences in computer monitors. But it looks just as great as it did as a computer graphic. When did you first get involved with mailart?

Ed: That's kind of a tough one. There are many definitions of "mailart" out there. Some people think that mailart is almost like an organization; "The World Wide Network". I've always thought that mailart was just sending artistically embellished mail. Whether you send it to Aunt Floozie in Britches Kansas, or your pen-pal Billie in Tokahooney Texas (G.W. got in a fistfight there once...). So to answer your question then, I began sending mailart in the early 1970's. I would create elaborate pencil drawings on my envelopes to Pam. We were engaged at the time. We've been married now for 28 years. I think it was that mailart that hooked her.
Pam and I created our own black & white postcards in the 70's and we sent out a lot of those. I began painting watercolor postcards and envelopes in about 1985. I've sent out hundreds of them over the years. Now I realize I could have sold them as paintings on eBay! But I've always enjoyed giving my art away more than selling it. I traded mailart with a handful of people through the 80's. Then in the 1990's I began trading mailart with The Sticker Dude, Dragonfly Dream, ex posto facto, Ruud Janssen, Arto Posto, Rudi Rubberoid, John M. Bennett, Ficus, and many, many more... it doesn't take long for the list to grow! There are over 80 people that I correspond with on a regular basis.
Sometimes people stop sending mail for one reason or another and you never hear from them again. One of my dear mailart friends, "Gundy" in Florida passed away in 1995 or so. I really miss his mailart. His wife called me on the phone to tell me the sad news.
Many people become so involved in mailart that it becomes their primary artistic focus. I try to keep it in the background. I want it to be a fun hobby and I don't want it to infringe upon my watercolor and collage painting. I hope to add a mailart page to my website in the near future.

kiyotei: Tell me more about your wife and family.

Ed: Pam and I were married in 1973. Pam is a guidance counselor for the public school here in Neah Bay. We lived in Granite Falls Washington for 13 years before coming here in 1999. We have 2 children, Rudy (24) and Rodleen (26). Rudy lives in Marysville Washington and is a bartender / bouncer. Rodleen is a singer / songwriter living in Los Angeles California. She sang on the Def Tones hit song, "Knife Party". Check out her website:
http://getsic.com/
They are both great kids and we are very proud of them!

kiyotei: Hey I think I've seen Rodleen's picture on a few artistamps. Why did you start the EggHeadz? (This is a loose group of mailartartists that Ed has invited to join by sending out a finely carved rubber stamp of an egghead with their name on it)

Ed: The "ed'zZ egg head'zZ" phenomenon is just part of my mailart persona. I do mailart to relax and have fun. Most mailartists take on a pseudonym, alter ego, or identity. Some folks get into it more than others. I enjoy my mailart hobby and have fun with it. I can let my humorous side loose while creating, sending, and trading mailart. But I do try to focus the majority of my artistic creativity on watercolor and collage paintings

kiyotei: Tell me about the area where you live and the tribe you live with?

Ed: Neah Bay is the most northwestern point in the lower 48 states. We love living here in Makah Nation with the Makah Indian Tribe. The people are wonderful. They have a rich and long history. The Makah culture has survived the many trials and tribulations of modern society that continue to undermine their way of life even to this day. We are proud and honored to be guests of such wonderful people. Learn more about Makah Nation by clicking here:
http://www.northolympic.com/makah/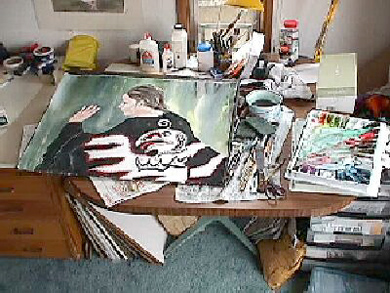 Ed's studio desk


kiyotei: Where are you originally from?

Ed: I was born in Butte Montana in 1952. We moved to Spokane Washington in 1960 and I graduated from Shadle Park High School (Spokane) in 1970.

kiyotei: What is your favorite automobile?

Ed: I had a 1955 Studebaker President back in high school in Spokane. It was pink and grey two-tone! Wish I had that baby today.

kiyotei: Ah yes! Classic European styling and the trunk up front! I know where you can get one, but it needs a little work. What is the most unusual thing that has happened to you?

Ed: I was talking about this question with Pam. She reminded me about the time in 1986 when Rudy & Rodleen came crashing into our bedroom and awoke me from my afternoon nap to take a phone call. I was working nights as a baker then. The kids knew better than to wake this sleeping giant (me) during my afternoon nap! Mrs. Walser Greathouse, director of the Frye Art Museum in Seattle was on the phone. She said, "I thought you would want to take this call... Your painting just won first prize, purchase award at the Frye this year!" From the 521 paintings entered, only 60 were chosen for exhibition, and mine took first place. I was blown away!
kiyotei: You said you worked as a baker? What did you bake, and did your culinary artistry lead from cutting dough to cutting rubber?

Ed: I was a journeyman baker for 25 years. I worked for just about every grocery chain in the state of Washington and quite a few independent shops. We had our own cake decorating business in the 1980's. I've made hundreds of wedding cakes and thousands of specialty decorated cakes since graduating from the Spokane Community College bakery program in 1972. Yes, there is no doubt that one thing led to another! But now I don't have to get up in the middle of the night.

kiyotei: I really love your Bob Dylan stamps, it seems like I've seen a ton of them passing through the mail. How many have you made?

Ed: I suppose I've made 15 or 20 Bob Dylan rubber carving images over the past few years. I like to use the images on my mailart. I have also sold a few of my Bob Dylan collage paintings on eBay in the past year. I sold 3 or 4 of my Dylan rubber carvings on eBay, too. The Dylan collages were made by incorporating my original hand carved Dylan images with collage elements and watercolor.

kiyotei: Why the emphasis on Bob?

Ed: I've been a fan of Bob Dylan's ever since my older brother Rudy brought home his first album back in 1962. I've always felt a special kinship with Bob.

kiyotei: What is your favorite Dylan tune?

Ed: I have a lot of "favorite" Dylan tunes. Bob has so many different versions of his own work out there. Especially on the bootleg recordings made by fans. There are several Dylan versions of "Girl Of The North Country" that I really like. You can tell it is one of Bob's favorite songs to perform. I also really enjoy the recordings of Dylan and the Band.

kiyotei: Yes that's a great tune. I like the country version he did with Johnny Cash on the Nashville Skyline album. Well, I guess that's enough abuse for you Ed. Thanks for spilling your guts a bit, I appreciate your taking the time to talk to us.

Ed: Thank you very much for this interview, kiyotei. Your Flashlight Interview feature is really a great idea. I appreciate this opportunity to be a part of your awesome website. See you in the mail! --ed