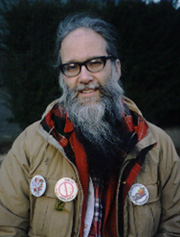 len tower (22k jpeg) no gifs due to patent problems
An autobiography in progress of Leonard (Len) H. Tower Jr.
I was born on 17 June 1949 in Astoria, part of the borough of Queens, in the City of New York, to Leonard (Len) H. Tower (not Jr.!) and Dorothy Anne Clouse Tower (nee Clouse), who died in August 2006, quickly and peacefully.

We lived above our relatives, the Hauperts, in Long Island City, NY. Then moved to (West?) Hempstead, NY in Nassau County. Then moved to Flushing, NY back in Queens.

Along in there my brother Thomas (Tom) Thornton (Triple Threat) and sister Barbara Ann (Doney, since she married Tom, a great guy) were born. (TTT has since married Deborah Souto, a great gal!)

We moved to Brentwood, N.Y. in Suffolk County out on Long Island just before I entered 2nd grade at Northeast Elementary School. For 4th to 6th grades, though we didn't move, I got shifted to Village Elementary School, which has since been converted into the new Administration Building. For 7th to 9th grades, I attended North Junior High School (though 9th grade was officially my first year of high school). For 10th to 12th grades, I was in the Sonderling Building of Brentwood High School, with occasional classes in the Ross Building. All these schools are part of the Brentwood Union Free School District.
I attended the 10th, 30th, and 40th reunions of my graduating Class of 1967, but missed the 21st (though the video was great!). Here are web sites that lists high school and college classmates, reunions, and chat rooms. Also check out the Brentwood Alumni Student Association mailing list basa-members@groups.yahoo.com and web site http://www.BrentwoodAlumni.net:

I was a Cub Scout and later on a Boy Scout, and reached the rank of Eagle Scout in 1967. I was also awarded the Vigil Honor in the Order of the Arrow. I was in the local Interact Club, sponsored by my Dad's local Rotary Club. I was confirmed a Lutheran at Prince of Peace Lutheran Church, and was a member of it's Luther League youth group. I'm currently a Christ doubting person with spiritual beliefs with Zen tendencies, who finds prayer, walking meditation, The Artist's Way, and it's morning pages useful parts of my spiritual practice.

I went to MIT and got a S.B. (a Bachelor of Science) in Biology. I put together a special degree program in Ecology, and did my course work @ Wellesley College, and my senior project @ Woods Hole Oceanographic Institute. (At that time, MIT only had one survey course on the impact on ecology on engineering, which I was required to take). I spent most of my non-study hours involved with community service, and the lasting friends I made at MIT came out of sharing that service.

I've attended a number of reunions of my MIT Class of 1971 (see alum.mit.edu).

After graduation, I worked with several research teams at MIT and Harvard Medical School, but it became increasingly clear that I either had to go and get a PhD, or find something else to do.

For a few years, I was a bookkeeper/accountant. I mostly worked with CPAs who needed someone good to restore and reconstruct failed accounting systems for ailing businesses. I always found and collected enough lost funds to pay mine and the CPAs fees. Often several times over. But it became increasingly clear that I either had to go get a CPA, or find something else to do.

Then for some years, I worked for the student newspaper at MIT. I was at times, their Business Manager, their Advertising Manger (sales! quite a challenge for me), and their Production Manager, in charge of typesetting the paper. And doing typesetting for outside customers so we could afford the typesetting equipment. Occasionally, I even did a book review or a news story, but my editorial contribution was mostly reviewing what others did.

Through the end of that, near the start of the Personal Computer (PC) revolution, we converted the typesetting shop from IBM Selectric based strike-on machines to photo-composition. There was also a very fancy (for it's time) editing terminal to prepare input for the photo-comp. And paper tape was the media of exchange.

Paper tape is hard to deal with and difficult to archive. We noticed that both machines had electronic data ports. Decided to try and connect them that way. One vendor would give us specs, the other wouldn't, so we traced hardware circuits and de-assembled bits into programming language, until it was clear that we needed to put a PC in the middle to do buffering and give us the random access capability of floppy disks, instead of the sequential access of the cassettes the editing terminal used. We got a PC in kit form, assembled it, programmed it and the editing terminal, and had a real productive system. Then quite a party, since the once valuable paper tape was now just super large ticker-tape. Then the vendor who wouldn't help us, couldn't do enough for us in exchange for the programming and our specs. Again, an MIT team had done something industry's R&D people didn't think worthwhile or easy.

This led me into my present and maybe last career, computers. I found a consulting firm that took me on as a low-paid trainee and quadrupled my salary in the first year. I moved on to work for a compiler house for a few years. And then worked for a university as a Senior System Administrator in their academic computing facility - doing Unix and helping to get them on the ARPAnet, just before it bloomed into the Internet. I most enjoyed helping student, faculty, and staff.

Since then I've been doing design and programming on my own part-time, mostly over the Internet. I did that so I could put significant time into the freely redistributable software movement, which produced Linux (a freely redistributable Unix clone) and other quality software in wide-spread use, supported by a community of cooperating programmers worldwide. Each program has been developed in a manner much like the barn raisings of old, and donated back to the community. As part of this, I was involved with the GNU Project in a number of roles, and was a founding board member of the Free Software Foundation, it's legal and fund-raising tactic.

I've been involved with, as an employee and a volunteer, many non-profit organizations, and several times a board member.

On the personal side, I have kept up my ties to MIT. Often go to the campus (or Harvard or ...) for exhibits, movies, shows, and concerts. And more importantly, informally advising a community service student group, and training printers-to-be at an old letterpress print shop -- both at MIT. The challenge is to help them without leading them -- it's important to let them learn by making their own mistakes.

I found a mate in 1979. In 1998, we separated permanently.

We brought a two family home in 1981 about a mile from Harvard Square, which I now own by myself. It has a second floor three season porch with views of the Square and beyond, from the south side of Spring Hill. We did most of the repairs and improvements ourselves. I enjoy my tenant and my neighbors. I mostly grow flowers, and am heavily into ever blooming multi-toned roses, and irises of unusual colors (e.g. black) that re-bloom in the Fall.

We stayed unmarried for tax reasons (and in retrospect, perhaps others). We decided to not have children of our own, but to enjoy our niecphews (nieces and nephews) and the children of friends and neighbors.

I eat vegan (only things that come from plants and fungi), have never owned a car, have a beard, wear my hair loose and long, refuse/recycle/reduce/reuse, and try to respect my health and the Earth's in similar ways.

... more to come when I have time ...
---
len tower's home page

| | | |
| --- | --- | --- |
| tower | @ | art.net |
| tower | @ | alum.mit.edu |
---
Back to my Bio
---
I attended the 10th, 30th, and 40th reunions of my graduating Class of 1967, but missed the 21st (though the video was great!). Here are web sites that lists high school and college classmates, reunions, and chat rooms. Also check out the Brentwood Alumni Student Association mailing list basa-members@groups.yahoo.com and web site http://www.BrentwoodAlumni.net:
---
Back to my Bio
---
len tower's home page

| | | |
| --- | --- | --- |
| tower | @ | art.net |
| tower | @ | alum.mit.edu |
---
updated: Fri Mar 25 17:44:55 2016
---