Suite: Night/Dance in the Horizon
II. Summonings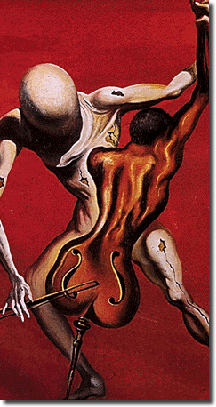 When the night is absent,
this wilderness and this vastness
      watch over me--
without eyes. I have been a satyr,
      red-nosed and lusty,
stretched between your wide hands and the ground,
resonating earthquakes.
All things are cello bodies,
      they call from their innards;
the murderous murmurings of their dark insides
drain trauma from the wailings of winter,
the gangrene of lecherous sleep healed.
      When you bow deep to the ground
      to kiss my hair,
                I shall
vibrate silver--damned wind
through my body leaps
      a gust of pure winter song.
Our silence
winds little by little into strings of light
dancing loudly across my trembling tones
--around which the heavens leap--
drunk with the darkness, darkening space,
dying spaces
      alternating
in tempo with the twilight pulses,
pressing notes into my sides with laughter
until I have arrived.

      I. Prelude

      III. The River Coursing the Moon

Return to title page of "Suite: Night/Dance on the Edge of the Horizon"

Sylvia Chong (schong@hooked.net)