Life Drawing
Lesson I
Gesture -- The Foundation of Figurative Art

---

Pivot Points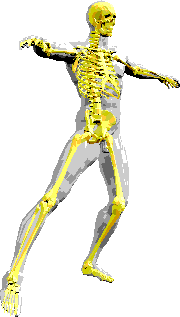 The bones articulate with each other within joint capsules. There are imaginary centers of movement inside the joints. I call these locations pivot points.

It is very easy to imagine the locations of pivot points in joints. In fact, it is much easier to think about pivot points than trying to decipher and draw the external view around the joints.

Because it's so easy to locate pivot points, I strongly recommend that you think pivot points right after you apply the three ovals.

---


A few more important thoughts on pivot points:

As the illustration below shows, pivot points are located deep inside the body parts. They are not associated with the exterior contour of the body. Pivot points can be expertly imagined even in body parts not visible to the artist. This can provide enormous assistance when you want to organize a confusing gesture pose.

Gesture Intro Page

Skeletal Foundation

---
Stick: The following are the key elements for organizing a "stick" figure:
The line of action

Three ovals -- Head, Ribcage, Pelvis

Pivot points

Long bones

Tilts and angles

Contour center lines of front and back torso, and face

---
Projection and volume augmentations: While good as a foundation, the stick figure does not adequately express projection of form, volume, or relative position in space. There is more you can do to express these important factors in the posing model:
The shortcomings of the stick figure

Showing projection

Application of the projection concept to the stick figure

Simple volume solutions

Relative position in space

---
Loosen up: Using the stick figure foundation with the projection and volume augmentations, you can loosely organize an expressive gesture sketch:
Compare the "contour" method to the stick-start method

Importance of the free-going mark

The line of action and stick are construction lines

Adding relationship and rhythm
What's New? | Shortcut

---
Entrances: | Studio | Alzofon Art Institute | Guest Wing, Link Room | Idea Library | Academy |
---
---
Rebecca Alzofon can be e-mailed at rebecca@art.net
This page created February 14, 1998


1998 by Rebecca Alzofon. All rights reserved.