Coffee Card Mailart Project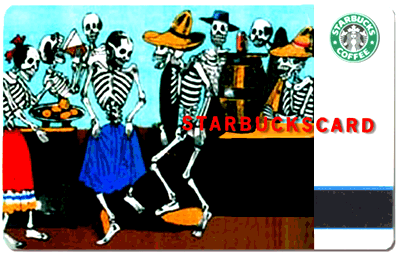 Got an old Starbucks card laying around?

Wanted.... used coffee cards for mailart project.
Will cut them up, paint them, melt them, add stickers and collage items to make postcards out of them.
This project is similar to my AOL free disk project.

Especially interested in cards from other countries (not just the USA)
Will also accept drawings, collages, paintings etc of "ficticious Starbucks cards"
( like the Dead of the Dead card above ) you have made.

Send your cards to:
kiyotei
p.o. box 2786
carlsbad, ca 92018 usa
Ongoing project / periodic documentation (and artistamps) to all ARTicipants.


Don't forget to check out all the mailart calls on kiyotei's den.
If you want your mailart call listed here, just click: mailart
This page was designed by Kiyotei 2004