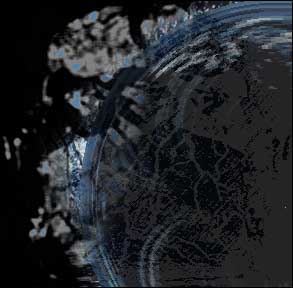 from summer in the tall green of thick uncut lawns and the heavy curtain of the honeysuckle which had devoured the white lattice which stretched between the two houses of the cousins, linked then, and was a setting for the benches where the wives sat to shell beans or string onions.
The old ones sat there in a row that late afternoon of the gathering, all the cousins and brothers, the generations before, the children, and the cousins were giving piggyback rides to their children, to any children; they had children hanging off them, leaping onto them, they were swinging children from their arms as they twirled and laughed into each others' eyes. Their hair was crisp dark waving brown or auburn, their eyes brown or green, their skin tanned, their muscles supple, their features sharp and quick.
There was a family resemblance.
watching, with the merest trace of amusement marking his lean dark face was
Lyman
.
Off to the side I stood on one foot wishing, not daring, desiring with unbounded intensity of childhood desires to be one of them, one of the wild laughing crowd of the cousins and their children.
I could have run and jumped into the midst. Grabbed one of those strong brown arms and they would have swung me up. But I did not. I wanted to but I could not. I have never been able to do that. I hang back, I stand alone, I miss, I rage and denounce. I know I do it and do not change. Yet I want to be changed more than I can
say
.
Feeling the soft summer air on my bare legs, hearing the cousins' laughing, seeing Lyman's sharp features on the edge, I saw the pickup cross the line, just drift, and never slow, like all the other drunks who drive freewheeling and bruiseless on the ways. I swerved sharply one way, then back, compensated too much; fierce sun slashed across the dusty windshield filling it with fuzz and blinding light.
I saw the tree directly ahead and wrenched the wheel harder, leaning over it, bouncing through the roadside ditch and coming up against
the oak.
It made no sound as the car scraped against it tearing its thick grooved bark. Molly, I remembered, Molly and her child had been slaughtered by a drunk yet they were both alive. It seemed odd that unlike other animals, even other mammals, humans could be slaughtered yet walk again among us everywhere. Sometimes I had moved through the borders of them, possibly been mistaken for one of
them
.
When I was six and seven and eight I sought out Lyman with my eyes. That was all. I rarely spoke to him, though sometimes I went closer, to be near him. His face was often sober but that amusement was in his eyes. I didn't know then what it was that drew me, only that his face and form drew me, the tallness, the leanness and darkness, and the fact of his difference. He wore a black cowboy hat and boots. No one else I knew dressed that way. He had a black horse. Lyman had a black horse and to see them together was music, was freedom like flying through space in dreams.
"Do you see a family rememblance?" I sneered as Adonie looked down on us from her perch upon the ladder. Twilight cloaked us like the flutter of wings.
I want to live in the realm where I can be who I really am.
But where is that?
---
Caught by the presence of the tree my mind, in its anger at the trap in which I existed, yet reached and trailed briefly through an image from the past,