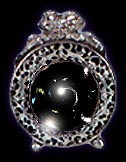 Unspent the time.
And we shall see.
I was in Esme(e)'s room. 1 chamber which belonged to her, was redolent with remembering her. I sifted wardrobes, chests, boxes; selected 1 garment suitable from shirts, vests, gowns, cloaks, caps, pantaloons. You will know when you see it.

Esme(e) believed she could effect with enough of time discovered or created so ultimately assisted time with her substance a manifestation undeniable and pure passage
as Esme(e) was pure intent.
I walked near the meadow.
There I espied the women, bent my path to theirs. I placed my hand a moment too fleet for rest on Violet's hair. Rose flung an orange at me; Elaine was critical of my catch.
The meadow grass grew up.
The sheltering trees enclasped.
Remember
me.

A signature.
We seek a signature
of her.

A wing
never stops,
is always
different
the same
becoming
the same
survival.
All our tears have fled the sea and we have reached the sky;
then we will sail away
and see each other
no more at all
forever.

Remember me
in the hours
beyond