Biographical Sketch
As potters, as artists, as people no matter what we do and how we do it our work is always the product of our cultural heritage, acquired skills, philosophical/religious orientation, and creative vision.
I have always made (hand built) orbs, but over time my work has changed according to these powerful influences.
I was born into a working class family in Germany. It was 1941 and the world was at war. My mother's relatives were in Holland and my father was fighting in France. We lived in a small village in the mountains, and proximity to nature was vital. Caves served as bomb shelters and gardens provided basic nutrition. My father survived the war but killed himself after returning home. My mother raised me to be a competent and submissive Hausfrau.
| | | |
| --- | --- | --- |
| | | When I took my first ceramics class, I was 28 years old, married to a master mechanic, and had two children. The first object I made was an ashtray for my husband the creative act a reflection of my place and purpose in life. The second piece was a globe-like vessel. |
Two years later we moved to the United States. My first sphere, a realistic representation of our globe, was made several years later. The spatial perception was a reflection of 'being lost between two shores,' and of a desire to find and define myself within a new culture.
While in graduate school I was 'confronting the dilemma of self and the world.' The transition from submissive German Hausfrau to successful professional women/artist in America was a long and difficult one.
After graduation I worked for several years with students suffering from drug addiction and behavioral problems using art/clay as a therapeutic technique. When the facility closed I traveled the US and Mexico for nearly a year in search of a new home. If clay was not available I enjoyed Fingerpainting.
In 1987 I joined the faculty of Duke's Department of Psychiatry, in Durham, NC, to assist in the founding of a substance abuse treatment program. Intense career ambition and clinical/social service left little time and energy to work with clay after hours. Inevitably the need to have my hands in clay became more pressing. I build a studio onto my house, resigned from my clinical position, and sought out opportunities to learn from renowned ceramic artists, such as Robert Piepenburg, Paul Soldner, and Peter Callas.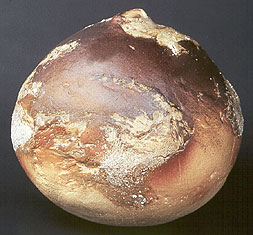 As I changed my work changed. It took on a more global, universal character.