Melinda Camber Porter, Author
---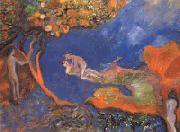 THE ART OF LOVE: Love Poems and Paintings, by Melinda Camber Porter
The Art of Love is the focal point of this exhibition, and features thirteen color illustrations of her paintings and fifty-five of her love poems from the exhibition. The book reveals Camber Porter's much raised capacity to unite word and image. It serves as the catalogue of the exhibition.
Writers and Readers Publishing ISBN 0-863-16-167-7
---
THROUGH PARISIAN EYES: Reflections on Contemporary French Arts and Culture, by Melinda Camber Porter
Interviews with prominent Parisian cultural figures: Francois Truffaut, Andre Malraux, Francoise Sagan, Yves Montand, Louis Malle, Marguerite Duras, Bernard-Henri Levy, Jean-Francois Revel, Costa-Gavras, Marcel Ophuls and many others. . 32 photos and 256 pages.
DA CAPO PRESS ISBN 0-306-80540-5
---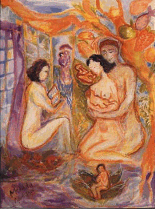 BOAT CHILD, a Comedy, written and illustrated by Melinda Camber Porter
Originally performed at the National Theatre Conservatory of the Denver Center for the Performing Arts.
Directed by Jennifer McCray Rincon, M.F.A. from the Yale School of Drama and currently Director of Acting at the Denver Conservatory.
BLAKE PRESS: ISBN: 0-9637552-0-X
---
Return to Exhibition Homepage