Best of SYNERGY, PANIC:Week 2
February 4-6, 1994
Week 2 marked the first "casual" PANIC sessions. Gathering for the sake of collaboration late on the weekend nights with no event of focus, OTISts harnassed the momentum of the first week's smartBOMB event and created over 100 images in fairly straightforward "pass-along" style.
---
Participants
Ranjit Bhatnagar, Lynn Bry, Ed Stastny, Andy Booth, Harlan Wallach, Alf Edgar, Michael Maier, Les Sattinger, Kevin Yoon, Brett Wagner, Decker
---
Picks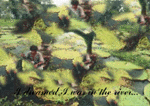 (48k)
RSBdramazon.jpg: Ranjit Bhatnagar
"I dreamed I was in the river..." Though this doesn't seem to be a collaboration, it's one of the prettier images to emerge from this session. The soft sterile sublimity is surreal.

(176k)
a0LB-eben.jpg: Lynn Bry then Ed Stastny
"when the world ends, i will" A deep scarey symmetry of a cranium submitted by Bry. This greyscale burns itself through the screen.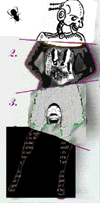 (42k)
a0lb2f5a5-corpse.jpg: Lynn Bry, Ranjit Bhatnagar, Andy Booth and Ed Stastny
A twist on the old parlor game exquisite corpse, this image was created from the seed image of a woman posing which was divvied out into four sections, one assigned to each collaborator. Top to bottom: Ed, Lynn, Andy, Ranjit. This "corpse" idea eventually evolved into a whole 'nother SYNERGY project.

(28k)
a2tori.jpg: ???
Another not-so-collaborative piece...this one was between ??? and Tori Amos. She floats loungingly. "Sometimes you just have to panic!", she sighs. A buzzword is immortalfied. The artist might have been Kevin Yoon, hard to tell since several people were using the incorrect IDs on their images.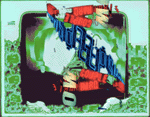 (148k)
c7a2a5paris-1.jpg: Harlan Wallach then ??? and then Ranjit Bhatnagar.
Again, I apologise for the mystery artist. This "paris" image, submitted by Harlan, is perhaps the MOST manipulated image in SYNERGY history. I believe there were over 3 dozen separate manipulations. You can see the progress of these images on Harlan's ART*HOLE webbification.
---
page last updated 8-14-94