Coastal Arts League Juried Competition, 1995

Sponsored by the Coastal Arts League Museum.
---
---
The Coastal Arts League sponsors a juried competition each year. Entries are received from all over, this year coming from as far away as New York, as close as Half Moon Bay. We have 62 pieces accepted in this year's show, ranging from computer-manipulated photography, to traditional paintings, and assemblages of found objects.
This show is both juried and judged. "Juried" meaning that a juror decides, based on seeing slides submitted by the artists, which works are accepted into the show. After the accepted works are delivered and the show is hung, the works are "judged," and prizes are awarded. This year we awarded two cash prizes ($100), the Grumbacher Gold Award for a 2D piece, and the Zoe Tierney award for a 3D piece. We also awarded honorable mentions, which come with gift certificates donated by local shops and restaurants.
The show hangs for five weeks in the Coastal Arts League Museum in the Gallery 92 West in Half Moon Bay, California, and is then shown on the World Wide Web.
---
The Awards...
---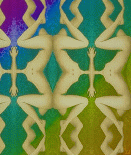 ---
The Pieces...
---
---

This show was juried by Arabella Decker.
---
For further information contact:

Gallery 92 (415)726-6335 or Show Committee;
Curator, Kendra K Davis ( kendra@art.net ) or

Simran Singh Gleason (415)747-0187, ( simran@art.net )