D.L Robertshaw


1955-




Emerging New Zealand artist. An artist who has already made a significant impact on the National New Zealand markets and has now reached the stage of international exposure. A number of paintings have already been sold to European buyers, notably German, American, Dutch and English collectors. And now has branched out into the Limited Edition Millennium Series. Additionally associations with the America's Cup Winston lounge.

Robertshaw was born in Cape Town, South Africa where he lived for ten years. The family moved to Napier, New Zealand where he attended Colenso High School then Victora University.

Represented by Intergall. The artist provides a showcase of his works as we enter the new millennium. From the pristine shores of New Zealand, the clear purity of light and the land- the painter draws his inspiration in reflections on time space and spirit..

Robertshaw has created a unique style 'The artist has created bold shapes making them function as abstract art. He is a painter well worth watching in the years to come' RICHARD FULCHER NEW YORK CRITIC 1997.

He has taken the human form captured the language of elements unseen. As the works evolved over the passed decade, a fundamental art expression has emerged. The use of bold colors is reflected particularly in the recent Pacifika Series. These are works dedicated to the Millennium and can be seen in the First Light Limited Edition works released for 1999-2000.

The intuitive emotional spring board has provide the inspiration. The painter has entered into a dialogue- a chronicle like a epic poem. That of New Zealand, The Pacific and of the world. It speaks in all tongues, as art itself is indivisible. It breathes life, embraces all people.

Above all he searches for the new light that may illuminate the shadows lands of mans past

In 1999 Des Robertshaw with IAC entered into an association executives of America's Cup to exhibit at the prestigious Winston Lounge at the Village. The promotion will take place late 1999 to 2000 and will be curated by Richard Thompson.

United States

1997

Agora Gallery New York.

1998

New Israel Gallery New York.

World Find Art Gallery.

Germany

1996 to 1998

Zande Berlin

Australia

1998-1999

Michael Commerford Sydney

New Zealand

1997-1999

International Arts center Parnell Auckland

America's Cup Exclusive Association.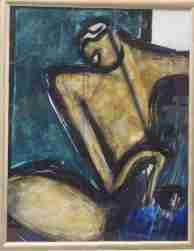 Title : The Musician.
Medium: Acrylic
Size 32x40in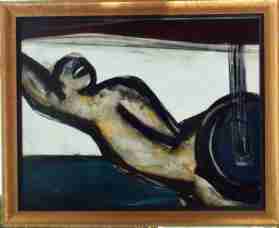 Title:Reclining Nude.
Medium:Acrylic
Size:36x44in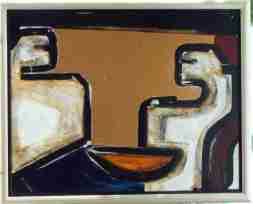 Title:Azra Series.
Medium:Acrylic
Size:36x44in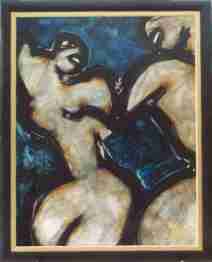 Title :Dancers of the Night .
Medium:Acrylic
Size:30x44in.
Title:Vessel and the Passage.
Medium:Acrylic
Size:37x45in
Title:Experment in Sound .
Medium:Acrylic
Size:33x25in
This work is a new approach for Des Robertshaw.
He would like to hear any comments on this work.
Send comment or Questions 


Back to Intetgall Main  screen