The PAlien figures originated from my Undeveloped Mythologies series of paintings, as a sculptural extension to the series. The Undeveloped Mythology paintings use live-modeled figures arranged in compositions that are almost aleatory, and are intended to evoke the beginnings of stories that the viewer brings to the painting. I built the figures for an installation at the Burning Man cafe, where anyone could come by and rearrange the pieces to change the composition and evoke different stories. During that process I also built speakers into some of the figures, to play sounds from Aaron Wolf Baum's audio fractal system, and for live soundscapes for a Body Cartography Project site-specific dance performance, played by the improv band Mixtape from Mars.
At that point I began thinking of the figures as aliens, and developed the back story which led to using them as the frontspieces for an environmental reprocessed sound installation.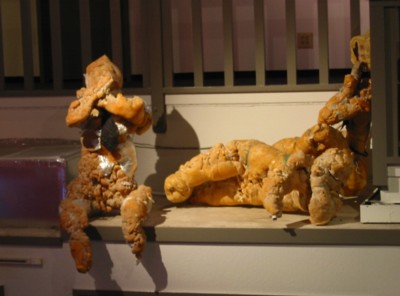 I've always been fascinated by the Cageian ideas of using the sounds of the audience or viewers as part of the soundscape of a piece. This incorporates the setting of the piece as an integral part of the installation and allows a large degree of interaction, though it is not often directly evident.

What surprised me was the occasional sheer beauty of the conversations the aliens were having. Late at night at the Mayhem installation, I heard them speaking in deeply melodic synthesizer-like tones. It turns out they were hearing Willy the Clown playing celtic harp, and speaking it 2 minutes later, backwards. Recordings are available of this and other selections from the aliens' conversations.