Alzofon Art Institute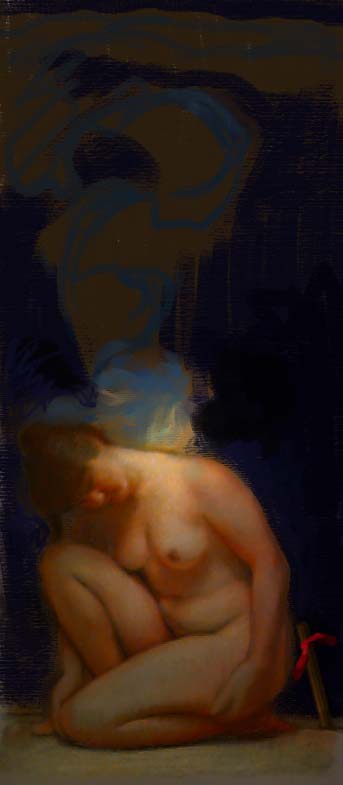 Explanatory Comments - About the Paintings
About the paintings

---
(Study) The Extinguishing of Destiny Back to Big Picture in Portfolio

---




The Female Figure. See Symbols

The Pose. This figure, a noble young Hamadryad, is claustrophobically squeezed into an unnaccustomed defeated crouch, before perishing altogether.

The Cloth. Lifting vaporously, the cloth tortuously makes its way to the realm of the non-embodied. It is the expression of the transition between worlds.

The Surveyor's Stake. See Symbols

How This Image Was Made. The figure was drawn from a posing model, in pastel on paper. A digital image was taken and loaded into my computer, where, using Fractal Design Painter, I further modified the composition until it appealed to me. To see the original pastel, visit the Sample Painting in the Academy.


---

An after-note. The last bits of wild land, already surrounded by urban sprawl, are now vaporizing before my eyes in my home town.

---

Also in the Idea Library:
What's New?
| Shortcut

---
Entrances: | Studio | Alzofon Art Institute | Guest Wing, Link Room | Idea Library | Academy |
---
---
Rebecca Alzofon can be e-mailed at rebecca@art.net
This page last updated: June 10, 1996