The Physical Properties of the Proposal


---

The Book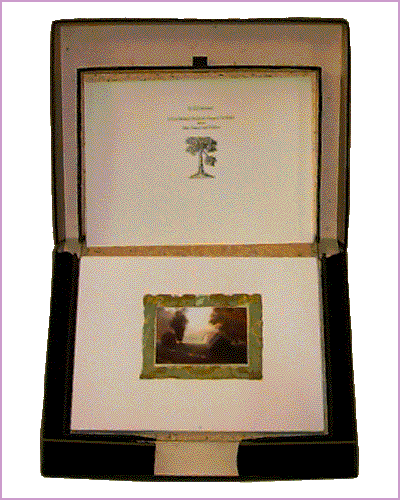 Page Size: 15" X 18"
50 pages
The book is a beautiful handmade illuminated manuscript.

---

Found within the book, is a two part expression of the project, plus a letter. Throughout, are tipped-on reproductions of original paintings and hand painted illustrations and frames.
The first part is a prelude fantasy story that sets the mood and premise for the ballet story.


The second part is an overview of the ballet story, including many allusions as to how it would be seen on stage.


Sandwiched between these two parts is a letter of appeal to the ballet company.



Return to Entry Page for Ballet Proposal- | See Folio | Narration | Tape |
---

Also in the Idea Library:
What's New?
|
Shortcut
---
Entrances: | Studio | Alzofon Art Institute | Guest Wing, Link Room | Idea Library | Academy |
---
---
Rebecca Alzofon can be e-mailed at rebecca@art.net
This page created: August 19, 1996