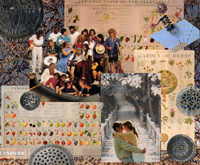 the Internet (31k jpeg) (492k jpeg) is a collage i did as part of a study at the Harvard Business School (no gifs due to patent problems)
My Webmastering
Beside webmastering this, my own, websight I have webmastered at a variety of non-profit organizations, and helped others with their web sites. I have also helped friends with personal web sites.

I was the main designer and a founding webmaster of the GNU Project web site. While working with them I wrote this style guide for webmasters. Their version has forked off mine.

Here are other helpful texts on webmastering.
---
len tower's home page

| | | |
| --- | --- | --- |
| tower | @ | art.net |
| tower | @ | alum.mit.edu |
---
updated: 10 Jun 2006 tower
---